Revolutionary Performance On A Smaller Scale
Carestream's DRX-Revolution Mobile X-ray System* changed the way the industry thinks about mobile imaging.  Expanding the Carestream portfolio, we have now developed a fully integrated, digital, budget-friendly mobile system.   Called the DRX Revolution Nano Mobile X-ray System, it is designed to deliver both value and performance.
Descripción
Technology:
The Revolution Nano utilizes Carbon Nano Tube (CNT) Technology, which differs significantly from traditional thermionic tubes.  The CNT emitter used in an X-ray tube consists of a large number of carbon nano tubes arranged vertically on a conductive substrate thus replacing the traditional filament.
Mobility:
CNT technology allows the Revolution Nano to be smaller and more nimble than the DRX-Revolution, making it ideal to maneuver through small patient rooms, crowded hallways or tight spaces in the ICU or NICU.
The DRX-Revolution Nano is ideal for portable chest, ICU, orthopaedic and pediatric imaging. It delivers all of these key advantages:
Unique Carbon Nano Tube provides an ultra-light weight design for easy maneuverability and arm positioning
Integrated DR technology delivers fast workflow and higher image quality than CR systems, at a lower capital cost
"Feather Touch" drive and small footprint make maneuvering and navigating simple and easy.
Sleek design offers line-of-sight visibility over the column and around the entire system
X-factor design allows detector sharing between rooms or mobile systems
Advanced software applications such as Tube and Line Visualization, Pneumothorax Visualization, Bone Suppression, SmartGrid and Pediatric Applications
Workflow:
A Fully Integrated DR Solution.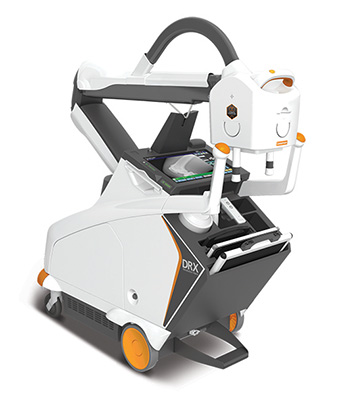 Driven by powerful DirectView Software, the DRX-Revolution Nano can help speed your workflow, boost your productivity and improve your standard of care-all at an exceptionally affordable price.
Carbon Nano Tube Technology
Balanced Articulating Arm
Lithium ion-Phosphate Battery
Battery Powered Exposure
Ergonomically Design Bin
Detector Bagging Feature
LED Collimator Controls
Feather Touch Drive
Independent Diaphragm
Wireless Detectors:
Detectors that go and grow with you

At the heart of the DRX Family is the world's first wireless, cassette-sized detector. It works across all DRX imaging equipment and allows you to share detectors across facilities, wherever they are needed the most.

Setting new standards in efficiency and reliability

The original Carestream DRX detector set a new standard for detector performance. Our DRX detectors deliver greater speed, easier handling and improved reliability.

Carestream's DRX detectors feature:

Wireless connectivity to eliminate the hassles and hazards of cables and reduce the risk of infection.

Instant access to images to speed decisions on patient care.

Ability to share detectors between any DRX room or any mobile DRX system.

A separate battery charger that allows the detector to be used while a spare battery is being charged.

Choose a detector that best fits your imaging needs:

DRX Plus 3543 and 4343 for general radiology.

DRX Plus 3543C and 4343C for pediatrics and other dose-sensitive applications.

DRX Core 3543 and 4343 for general radiology.

DRX Core 3543C and 4343C for pediatrics and other dose-sensitive applications.

DRX 2530C – for dose-sensitive pediatric applications and orthopaedic imaging.

Consistently Great Imaging Performance (PDF)
Now available, the third-generation design: the Carestream DRX Plus Detector takes DR to a new level

Three Plans – Three Options for Protection.

CARESTREAM DRX Accident Protection

 is uniquely designed for the DRX Detector and can be added to your Warranty Coverage, Smart Care Complete, or Smart Care Select Service Agreements. These plans can cover the full cost or dramatically offset expenses associated with replacement detectors.

DRX Accident Protection Plan Brochure
Experimente la solución X-Factor de Carestream para sistemas DR.Carestream está cambiando su filosofía para los sistemas DR y le permite controlar el cambio a un sistema digital. La primera plataforma de detector inalámbrico de tamaño chasis del mundo le proporciona la solución X-Factor y saca el máximo partido de su inversión de capital. El X-Factor satisface las necesidades actuales, le sitúa en una posición de crecimiento y constituye una mejor forma de atención para los pacientes.Compatible
Una plataforma de detector única puede utilizarse en un amplio conjunto de equipos DRX
Convierta una sala de rayos X o sistema portátil en un sistema de radiología digital en un solo día
Escalable
Adopte un enfoque modular en su inversión de capital
Personalice una solución DR que se adapte a su flujo de trabajo y presupuesto
Añada sistemas DR a medida que se amplían sus instalaciones
Flexible
Saque el máximo provecho a su inversión en sistemas DRX las 24 horas del día, siete días a la semana
Comparta el detector con una unidad radiográfica portátil para las visitas matutinas, con un equipo DR de la sala de radiología por la tarde y con el servicio de urgencias por la noche
Utilice una plataforma de software común para que agilizar su proceso de examen
Más de 11.000 detectores DRX están ayudando a que los centros de asistencia sanitaria en todo el mundo puedan aprovechar las ventajas de la radiografía digital inalámbrica con la gama Carestream DRX.
X-Factor. Cambie su forma de pensar acerca de la radiografía digital